Looking To Buy Or Rent An Instrument? Read Our Customer Reviews
Coronavirus Update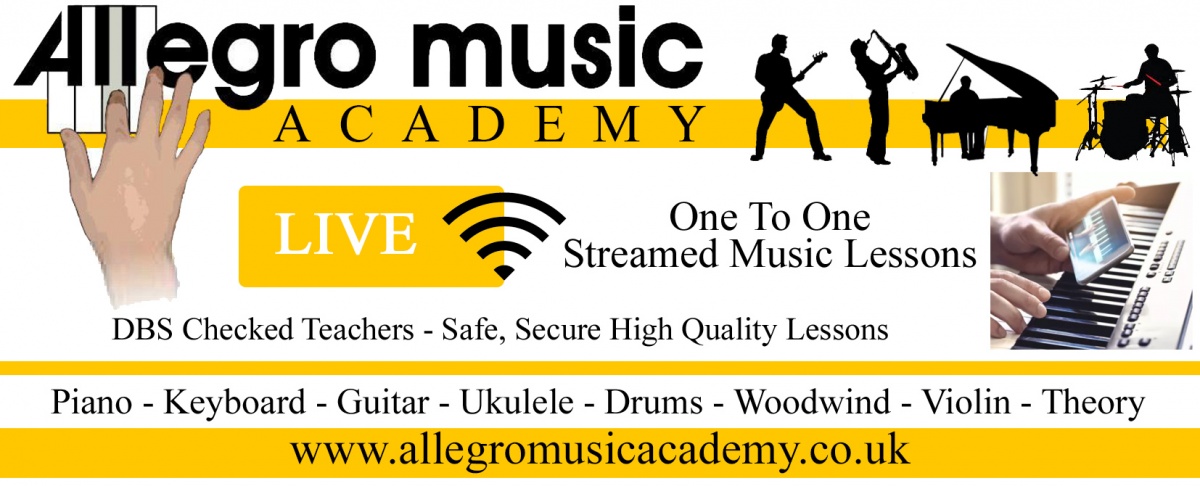 Whilst our physical Academies are currently closed, we are now offering high quality, live one to one streamed music lessons, 7 days a week. If you are a student of the Academy, many of our teachers are able to offer you your normal lesson, but streamed live. As long as you have a smartphone or tablet, you can take part. Please follow the approriate link below to register your interest.

Whether you live local to us or at the other end of the country, our team of highly experienced teachers are on hand to offer live on to one streamed music lessons 7 days a week. As long as you have a smartphone or tablet, you can get quality, safe tuition in the comfort of your own home. Our CRB checked team offers fun and relaxing tuition for complete beginners or those wishing to improve their skills, why not give it a go now and book one of our introductory offers. Click the link below to register your details and someone will contact you to get you booked in. Alternatively, if you would like to start physical lessons in our Music Academy when we reopen, please click here to register your interest.

Why The Allegro Music Acadamy?
We have taught thousands of people how to play almost every type of musical instrument for nearly 40 years, and now wee are able to bring the unique experience of a live 1 to 1 lesson to your front room. If you would like to see one of our academies, watch our video tour where you will see what we do and how we do it, the only difference is you don't have to travel to us, we come to your home live.
Why Take Live 1 to 1 Streamed Lessons?
During these challenging times, learning or improving a musical instrument is a great way to spend your time, and after you have had your lesson, you can while even more time away practising throughout the week before your next online session. Whilst there are some great sites out there offering pre recorded lessons, nothing comes close to having a real 1 to 1 lesson with an experienced teacher.
Our Teachers
Our team of expert teachers have a huge amount of experience in their field and have been chosen not just because of their musical ability, but also because they know how to structure each lesson to your own unique requirements. It doesn't matter how old you are, or what your playing standard is, we're here to help everyone, from complete beginners through to those stuyding for higher grades to progess in the way that only proper live 1 to 1 lessons can. Our teachers can advise you of many online resources sites for learning materials and if you want to follow a specific course, sheet music and tutor books can be ordered online at
www.allegromusic.co.uk
When?
We aim to make all of our lessons fun and enjoyable and teach almost all of the popular instruments 7 days a week at a time convenient to you, from early mornings, through the day and into the late evening, plus all day Saturday and Sunday.
Safety
To put your mind at rest, all of our teachers are DBS checked and operate with integrity and fully support strong safeguarding ethics.
How?
We use the latest technology to ensure your lessons will be effective and great value for money, and by employing the "Facebook Portal" platform, not only do you get a clear crisp picture, you also get great audio, as background noise is automatically cancelled out. All you need is a reasonable broadband connection, a smartphone and a facebook account so if you can tick those boxes, then leave the rest to us.
How Much?
Each lesson is 1/2 hour long and normally costs £18. These are currently on offer to new students at £17 and we do offer 1 hour lessons should you wish.
New Student Offer
As a new student to the "Allegro Music Academy" online music lesson program, you can take advantage of our great 4 for 3 offer. You pay for 3 lessons and get 1 free, so a whole months worth of 1/2 hour live 1 to 1 lessons for just £51 (normally £72)
Small Steps
If you would rather just try one lesson initally, that's no problem. For just £17, you can have a 1/2 hour live 1 to 1 lesson.
Big Savings
Once you're a student of the academy, if you book ongoing lessons 4 at a time, you get them at £17 per lesson (£18 if booked individually) and if you really want to save big, you can book a course of 24 1/2 hour lessons and spread the cost over 9 months with no interest. By using the Arts Council "
Take It Away Finance
" scheme, you could even bolt an instrument on and you have the perfect package to keep you busy for one small monthly payment. *STC, max value £2000
How Often?
How often you take your lessons is up to you, we recommend one lesson a week, but if you want more than that, just let us know.
Go For It
Simply click on the "Book Live 1 To 1 Online Streamed Lessons" box above and one of our lesson coordinators will contact you to arrange your lessons.
Haven't Got An Instrument?
As the Allegro Music Academy is part of the Allegro Music Group, we are also able to help find the perfect beginners instrument and can even offer special prices for new students as well as 0% finance schemes through the Arts Council "Take It Away" finance scheme.
Click here to view our massive range of instruments, accessories and sheet music. If you're not sure what to get, email us
here
and we will be more than happy to help.