Looking To Buy Or Rent An Instrument? Read Our Customer Reviews
Instrument Rental
RENT AN INSTRUMENT FROM JUST £8 PER MONTH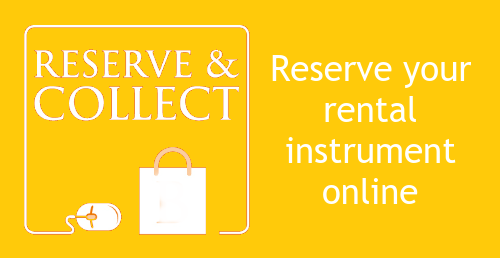 With our "RENT TO BUY SCHEME"
How it works:-
Pay a deposit on your chosen instrument and receive two months free rental.
Example: £29 deposit for a brand new Beginners Flute outfit
In month Three begin hiring the instrument for just £15 per month (paid by standing order)
If you continue hiring the instrument for Eighteen months, the instrument becomes yours and the agreement comes to an end.
Total amount paid at the end of hire period - £299
Alternatively, you can return the instrument at any point with nothing further to pay.
All Rental Agreements must be completed at one of our branches.
Two forms of ID with your home address on and a valid debit/credit card will be required to hire an instrument. Subject to status, terms and conditions apply, written details on request.
All instruments include:- Full guarantee during hire period and matching case where applicable
| | | |
| --- | --- | --- |
| Instrument | Deposit £ | Monthly Rental £ |
| Flutes | | |
| Basic Beginners Flute | 29 | 15 |
| Trevor James Student Flute (Teacher recommended) | 49 | 31 |
| Trevor James Curved Head Flute | 79 | 38 |
| Clarinets | | |
| Basic Beginners Clarinet | 29 | 15 |
| Upgrade Student Clarinet (Teacher recommended) | 49 | 31 |
| Alto Saxophones | | |
| Basic Beginners Alto Saxophone | 59 | 25 |
| Trevor James Alpha Sax (Lightweight model) | 75 | 38 |
| Trevor James Classic Alto Sax (Teacher recommended) | 89 | 42 |
| Soprano Saxophones | | |
| Straight Soprano Sax | 59 | 29 |
| Tenor Saxophones | | |
| Basic Beginners Tenor Sax | 99 | 45 |
| Trevor James Classic Tenor Sax | 149 | 55 |
| Trumpets | | |
| Good Quality Student Trumpet | 29 | 15 |
| Cornets | | |
| Good Quality Student Cornet | 29 | 17 |
| Violins | | |
| Good Quality Student Violin Outfit 1/4 - 1/2 - 3/4 - 4/4 | 25 | 8 |
| Hidersine Geared Violin Outfit 1/4-1/2-3/4-4/4 | 29 | 17 |
| Keyboards/Pianos | | |
| 61 Note Touch Sensitive Keyboard Package | 49 | 18 |
| 88 Note Weighted Key Digital Piano Package | 99 | 25 |