Looking To Buy Or Rent An Instrument? Read Our Customer Reviews
Saxophone Teachers in Chelmsford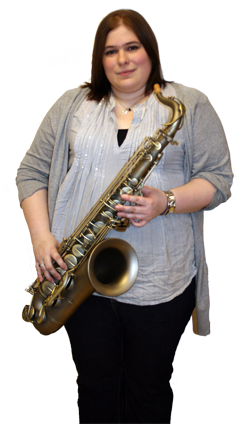 BEX KENT
Flute, Saxophone, Clarinet, Double Bass, Singing, Banjo & Ukulele - Individual Lessons
Bex has been with the academy for over two years and teaches woodwind, singing, double bass and Ukulele. She is keen to pass on her passion for music to her pupils, whether you wish to learn for fun or in a more formal way.
Bex is a soprano who studied at the London College of Music. She has a Bachelor of Music degree in performance and specialises in Opera and Classical music. Bex has sung in a variety of famous locations including the Royal Albert Hall, Milan Cathedral, the BBC proms and the Statue of Liberty. In her free time Bex also sings with the local Southend Girls Choir. As well as her passion for singing she loves to also teach Flute, Saxophone, Clarinet, Ukulele and even double bass - all instruments that she has mastered!

ROB WICKES
Flute, Clarinet & Saxophone- Individual Lessons
Rob studied at the London College of Music and qualified with ALCM, LLCM (TD) in woodwind. He studied saxophone, clarinet and flute and during that time covered most genres of music: classic, swing, jazz etc and also played with NYJO and many other big bands whilst also having his own function/big band, playing with many well know artists.

Rob has worked for Essex County Council as a music teacher for over 30 years and is now looking to pass on his knowledge and experience to you here at the The Allegro Music Academy too. Whatever level of player you are Rob will devise a learning plan to fit each individual student - he looks forward to meeting you and passing on his musical experience!

LAURA BAYKAN
Clarinet & Saxophone - Individual Lessons

Laura has been playing the clarinet since she was 9 years old and enjoyed music so much that she decided to join the Army after going to see the Royal Tournament. She studied Clarinet, Saxophone and Viola at the Royal Military School of Music Kneller Hall. When she graduated she joined the Band of The Parachute Regiment based in Colchester and travelled all over the world, from Canada to the Falkland Islands. In 2010 Laura went to Afghanistan to give musical support to the troops over Christmas and New Year. She has performed in front of the Queen and other members of the Royal Family. She would now like to share her experience and help those that have a passion for music as much as she does! We are very pleased to welcome her as part of our teaching team