Looking To Buy Or Rent An Instrument? Read Our Customer Reviews
About Us



The Allegro Music Academy was formed over forty years ago with the intention of offering high quality music lessons that not only achieve excellent results, but offers a relaxed way in which to learn. We offer every type of music lesson to anyone and everyone - whatever your age or ability.
Whether you're an aspiring hobbyist interested in trying out different instruments or whether you're a trained professional, we have a teacher for you.
All of our teachers are DBS checked, and cleared, to help ensure a worry free environment for parents.

Based in Southend, Chelmsford, Great Baddow and Colchester, our modern purpose built teaching studios house a full range of the latest top quality instruments for use in lessons and for those students not wishing to bring their own instruments.
With over thirty teachers spread across all four academies, all offering their own unique style of musical tuition, the Allegro Music Academy now teaches over ten different musical instruments, as well as vocal and theory tuition.
Please be assured that all of our teachers have been CRB/DBS checked and cleared. Parents are more than welcome to wait for their children in the comfortable waiting area where hot and cold drinks are available.
The Allegro Music Academies are housed within the Allegro Music Superstores, with access via the main shop and are open 7 days a week, from early 'til late.
Being part of the Allegro Music group you are assured of dealing with a solid and reliable business that strives to offer its customers the very best service possible.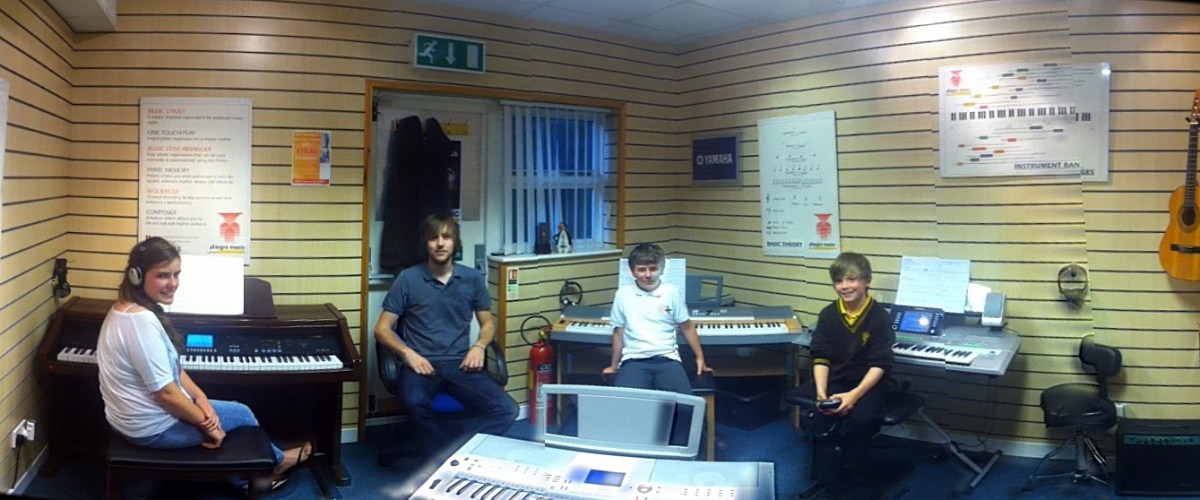 All of our teachers have a vast amount of experience of their particular instruments and have been specifically chosen because of the positive and fun way in which they conduct their lessons.
Please note that lessons vary depending on location so be sure to check on this site or call us at the branch you wish to attend.
---
"When our daughter said she wanted to play the drums, both me and my wife were thinking of the noise, but we went to the Allegro Music shop and were advised to purchase an electronic drum kit that could also be played with headphones on. This also came with a free drum lesson, that was 18 months ago and she's been having lessons ever since."
Mike, Leigh on Sea
"James has taught me how to play for 2 years, and now he's showing me all about playing in a band, we've just done our first gig, and it was brilliant."
Steve Mills, Rayleigh