Looking To Buy Or Rent An Instrument? Read Our Customer Reviews
Clarinet Teachers in Southend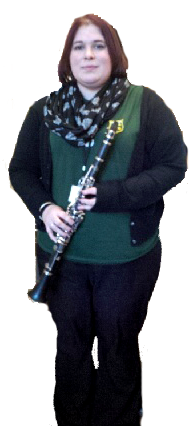 BEX KENT
Flute, Saxophone, Clarinet, Double Bass, Singing, Banjo & Ukulele - Individual Lessons
Bex has been with the academy for over two years and teaches woodwind, singing, double bass and Ukulele. She is keen to pass on her passion for music to her pupils, whether you wish to learn for fun or in a more formal way.
Bex is a soprano who studied at the London College of Music. She has a Bachelor of Music degree in performance and specialises in Opera and Classical music. Bex has sung in a variety of famous locations including the Royal Albert Hall, Milan Cathedral, the BBC proms and the Statue of Liberty. In her free time Bex also sings with the local Southend Girls Choir. As well as her passion for singing she loves to also teach Flute, Saxophone, Clarinet, Ukulele and even double bass - all instruments that she has mastered!


EMMA REED
Flute, Saxophone, Clarinet, Guitar & Piano - Individual Lessons
Emma is an experienced and enthusiastic teacher who has played in many countries and in many styles. She loves collecting instruments and learning about the history of everything she plays. She is particularly passionate about improvisation and music as a way of life and has taught people from 3 to 93 to confidently express themselves through gaining a real relationship with their instrument. She strives to make her lessons friendly, fun and informative and tailored to the goals and interests of the individual. She also makes a point of learning to play new instruments all the time so she never forgets how being a learner feels.