Looking To Buy Or Rent An Instrument? Read Our Customer Reviews
Theory Teachers in Southend
All of our teachers will provide theory guidance as necessary to progress with practical lessons.
We also provide individual theory lessons to support the school curriculum and the ABRSM exam programme.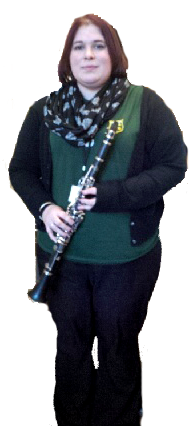 BEX KENT
Flute, Clarinet, Saxophone, Ukulele, Singing & Double Bass - Individual Lessons

We are delighted to welcome Bex Kent to our Academy as a Flute and Clarinet Teacher. She also teaches singing and saxophone and is keen to pass on her passion for music to her pupils, whether you wish to learn for fun or in a more formal way.
Bex is a soprano who studied at the London College of Music. She has a Bachelor of Music degree in performance and specialises in Opera and Classical music. As well as singing Bex also plays, and teaches, a variety of instruments including Clarinet, Flute, Saxophone and Double bass. Bex has sung in a variety of famous locations including the Royal Albert Hall, Milan Cathedral, the BBC proms and the Statue of Liberty. In her free time Bex also sings with the local Southend Girls Choir.

Thomas Andreas
Violin, Viola, Piano & Keyboard - Individual Lessons
Since graduating from the Colchester Institute in July 2006 with a BA Honours Degree in Music, Thomas has been working as a freelance musician and music teacher in London and the South East. He specializes in the violin, while also teaching viola, piano, music theory, string groups and classroom He performs for the Collaborative Orchestra, Essex Concert Orchestra and the Andreas String Quartet, as well as freelancing for many other groups.
Thomas is able to teach all ages and abilities and looks forward to passing on his expertise in Music to his students, teaching them at their own pace and finding a learning path specific to each one.
NATRAH AKIB
Piano, Keyboard, Violin, Viola, Guitar & Theory - Individual Lessons
Natrah graduated from the West Sussex Institute in 1991 and started working at Ridley Studios by playing Piano for the ballet classes before teaching her first Piano pupils and a small 'Introduction To Music' class to children aged 4 - 6. She worked at Ridley Studios for twenty-one years teaching Piano and Violin and also taught at Westcliff High School For Girls for twenty-one years starting with Piano, and then Violin, also playing for several school productions. In 1994 - 1996 Natrah taught adult beginners Piano classes at Basildon Adult Education College and still teaches a lot of adults at the moment, also teach adult Violinists! She has taught Violin and Guitar at St Pierre School and also the Violin at Sacred Heart School. Other work includes playing the Piano for ballet classes at St Michael's Preparatory School for two years and, for several years, taught Piano and Violin at the Piano Pavilion.
Natrah has played in several orchestras including the Southend Sinfonia, Southend Philharmonic Orchestra and currently the Southend Symphony Orchestra - she likes to encourage pupils, when ready, to join one day! Of her former pupils several of them have gone on to become music teachers themselves!
A very experienced teacher, who loves to create individual lesson plans to suit each student's needs.