Looking To Buy Or Rent An Instrument? Read Our Customer Reviews
Drum Teachers in Southend
LEE DODSON

Guitar, Drums & Keyboard - Individual Lessons
Lee has been playing guitar, bass, drums and keys or over 20 years and has had previous success performing live and recording with various bands throughout this time.
Aside from his session work between touring, Lee began teaching around 2001 and found it an enjoyable and worthwhile platform to educate and nurture new musicians on their journey into music.
Lee will tailor lessons around every individual and enjoys finding the right musical journey for each and every one of his students!

SAM RICHARDSON
Drums, Bass, Guitar & Piano - Individual & Class Lessons
Sam has been playing drums for around 20 years, earning a professional diploma and amassing a wealth of experience in live situations and recording but it is teaching that he finds most rewarding.
His approach to teaching is to focus on the fundamentals
and use these simple approaches to open up the limitless creative possibilities that exist in music.
He is also happy to teach to a syllabus such as the grading systems or any other instructional material, and can offer in depth guidance on technique, stick control, timing, dynamics, independence, reading, tuning, improvisation, rudimental studies and practice techniques.
DEBS WILDISH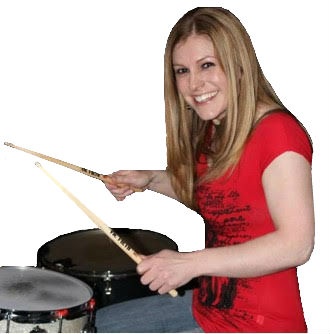 Drums - Individual Lessons
Debs has been drumming for over 20 years and achieved a Drumtech Diploma in 2003. Since then,she has performed with various artists of different genres and toured extensively, particularly withher previous long term band, Joanovarc. She has played all over the world and supported artists suchas Toploader, Slade, Wizzard, Beth Hart, Dandy Warhols and many more. Debs has plenty ofrecording experience too and has two albums released with Joanovarc. She has also worked withcharacters such as John Altman (Nick Cotton, Eastenders), Adam Barron (The Voice) and AnyaMarina (US artist).
Joanovarc's songs have been featured in a film directed by Joe Scott called 'Is this Now' which won several awards at the Buffalo film festival in 2017.
Debs has been teaching drums and piano for over 13 years privately, in schools, and even on cruise ships. She has also obtained grade 4 violin, grade 5 piano and grade 5 music theory. She currently plays occasionally in Europe with an all- female AC/DC tribute band.